Wow, so much has happened since my last post! I guess that's the best reason to fall behind on my blogging, right?
Jumping back a bit, in 2015 I was accepted into, and began my studies with, the Hollins Playwrights Lab MFA program at Hollins University. This program is sort of a combo of a low-res program and a summer intensive. Unlike most low-res programs where you do most of your work remotely then visit campus for maybe two weeks, Hollins Playwrights Lab meets for 6 weeks in the summer. An entire semester is taught during that 6 weeks, which means each class meets twice a week for a total of 6 hours. And the instruction, led by program director Todd William Ristau, is superb. I could go on and on about the program, but the headline is I love it. I've been for two summers now, have one more to go and then my thesis. I'll be sad when it's over!
One of the many advantages of the Hollins Playwrights Lab is the opportunity for professional work gleaned from contacts you make while attending. During my first summer I was lucky enough to score a commission from the Merry-Go-Round Youth Theatre. TORTOISE VS. HARE: REMATCH! was a blast to write – a small cast show for a library tour Summer 2016. Here's a collage of their press photos for the tour: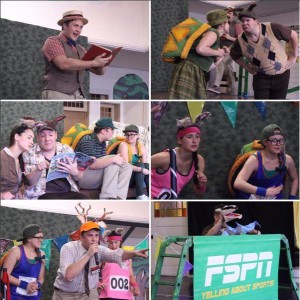 The second commission was from a fellow student, Kimberly Patterson, who is the Chair of the Performing Arts Department at Oxbridge Academy of the Palm Beaches. The play was LOCKED IN, about a bipolar student faced with the daunting proposition of a student lock-in event on Halloween. It premiered in April 2016 and I'm told the kids loved the play!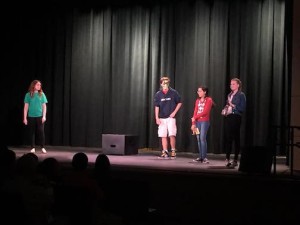 When I returned to Hollins for the 2016 semester, my play POPCORN GIRL was chosen for their Festival of New Works. The play is based on a true story – in 1997 the owner of the worlds last silent movie theater was murdered in the lobby. Turns out the killer was hired by the projectionist, who just happened to be the owners lover! Scandalous! I wrote the play for my docudrama class in 2015, and it's one of the scripts of which I am most proud. Fingers crossed it will find a home for its world premiere soon!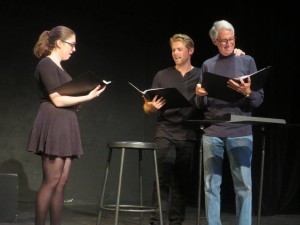 Last but not least, I joined a theater company as a resident playwright in 2015 – SkyPilot Theatre Company. I'm excited about the possibilities of the company, so stay tuned for more about my work there.
Over the past two years at Hollins I've written over 2 dozen plays! Crazy! But I'm going to hold off on talking about them until I have news to report.
Take care!
Sean